Here we go!
Only a month into this project, and we have already deviated from our plan.
It was never our intention to buy alpacas until we were ready to have them on our land.
The land purchase is still going through the legal processes, so there is still quite a way to go before we can prepare the land with buildings and paddock fencing, etc.
Along comes a message from our friends Stuart & Jean at Velvet Hall Alpacas that they have seen a pregnant female that may interest us.
We took a trip to Durham to see Carole and Clyde at Prince Bishop Alpacas. They introduced us to Lexus (and the rest of their herd).

Lexus is a very fine quality white alpaca, with a really nice fleece. We also saw her cria from last year (Jakie). His fleece is also very good quality, which bodes well for the quality of her next cria (due July / August 2015). She is mated to a recent import from Australian stock (Timbertop CT Goldmine ET) - a mid fawn with an excellent pedigree.
So...
Not so much "Plan B", but possibly "Plan A - Revision 1" !
We have agreed to purchase Lexus, and Stuart & Jean are going to provide agistment at Innerleithen until our paddocks are ready for her (and her new herd mates).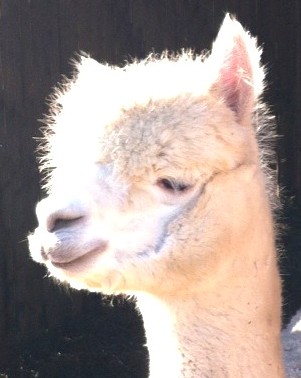 Here is a glimpse of Lexus.