Details of our (non-stud) male alpacas.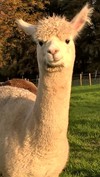 Milo is a white alpaca, born on 16th July 2014.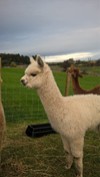 Apollo is the son of Miranda. He was born on 19 July 2015
Miranda is a good mum, and provided Apollo with lots of nourishing milk. He has grown to be the largest of the crias this year.
He has a beautiful fleece.
This category comprises two distinct groups:
a) Young males who have stud potential, but have not reached the stage of being breeding adults, (but are no longer cria)
or
b) Males that will possibly not be used for breeding, but have other roles and activities within the herd.