Dear Clients,
Due to unprecedented demand in the last few weeks we will not be able to accept any more new voucher purchase requests for gift vouchers to be issued before the Christmas deadline. We believe that this is in the best interests of clients and their ability to book slots in 2019. We think that it would be wrong for us to sell too many vouchers if your recipients then experience difficulty making a booking.
All previously received requests which have been acknowledged by us and have had payment details sent to clients will be processed as soon as possible.
Voucher purchase will resume in spring 2019
Kind regards
BobCat Alpacas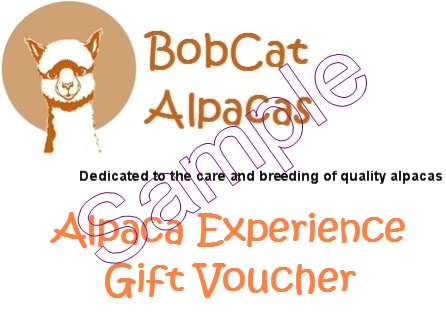 If you would like to purchase an "Alpaca Experience" voucher as a gift for someone, we can help you to do this fairly quickly and easily.
1 Send us an email with the recipient's name - This email address is being protected from spambots. You need JavaScript enabled to view it.
2 We will reply to that with our bank details - sort code, account name and number, and a payment reference.
(Please remember, though, that we are not a large organisation with administration staff.
We process your requests after a day of caring for our alpacas on the farm.
Please be patient if you do not receive an immediate reply)
3 Once you complete the BACS transfer of the appropriate amount we will send you another email with the voucher attached as a pdf file.
4 This file can either be printed by you and given to the recipient, or sent to them electronically
Please note that the voucher only has space in the format for the recipients' names - there is no provision to include a greeting.
Vouchers are nominally valid for a 12 month period from the purchase date.
Vouchers are only valid for,and redeemable against our standard Alpaca Experience Events.
They cannot be used to book special events (e.g. our Festive Walks) or joint events with other herds (e.g. our Beach Walks)
You are here:  

Gift Vouchers